Patented in Japan, U.S.A., other

| | |
| --- | --- |
| Bore | 50-300mm |
| Rated pressure | 1MPa |
Clean water can be secured by easy and quick operation.



Easy operation

Screen clogging is easily removed.

Efficient operation

Removal of foreign material is achieved efficiently and quickly by using just the handle, keeping hands clean.

Electric power unnecessary

Electric power is not required, decreasing running costs.
* Automatic operation is possible with a small electric motor.

Highly economical

Simple structure ensures durability and easy maintenance, eliminating adjustment of the strainer.
Structure & Principle (PAT.)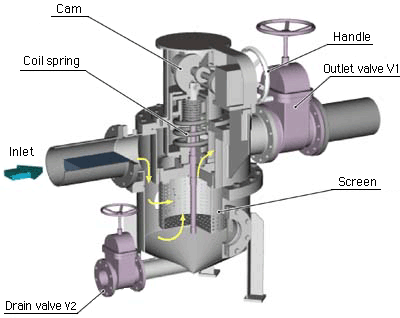 1.

When the outlet valve is closed, an inner space between the screen and the outlet valve is formed.

2.

With the operation of the handle, the cam rotates and pushes down the screen.

3.

When the cam exceeds the maximum point, the screen is released and brought back to the normal position by the force of the coil spring.

4.

The inner space is compressed, ejecting the water through the screen, thus removing the foreign material clogging the screen.


Clog removal

When the pressure difference between the inlet and the outlet exceeds 50kPa, clogging can be easily removed by the following operation:

1.

Close outlet valve V1.

2.

Operate the handle to rotate the cam, removing the clogging from the screen.

3.

Open drain valve V2 and drain the foreign material accumulated below the screen.

.

In case of strongly adhering foreign material, repeat the operation two or three times.

.

The operation can be automated using an auto valve, small electric motor and a differential pressure gauge (optional).
Most clogs are removed with one operation

Foreign material clogging the screen

The size of the screen mesh is 10mm in this case.

Foreign material removed from the screen by this operation

The size of the screen mesh is 10mm in this case.
Change in inlet and outlet pressure difference before and after the operation
Easy, rapid removal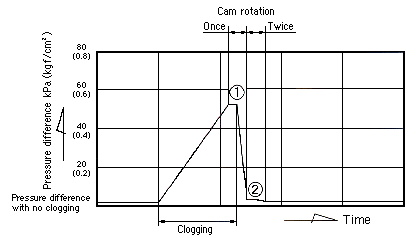 Example applications


Mizusawa Regional Development Bureau in Iwate Pref.

ST-200

Demonstration carried out at the Kyushu Agricultural Administration Bureau-Uwaba Agricultural Irrigation, as a part of the Joint Research and Development Project for New Technology by the government and private enterprises, and supervised by the Ministry of Agriculture, Forestry and Fisheries of Japan.

ST-200