Patented in Japan, U.S.A., other

| | |
| --- | --- |
| Bore | 40-350mm |
| Total head | 10-120m |
| Capacity | 0.1-23m3/min |
| | |
| --- | --- |
| UB type: | Back-pullout self-priming type (Foot support) |
| UBC type: | Back-pullout self-priming type (Center support) |
| | |
| UBO type: | Back-pullout non-self-priming type (Foot support) |
| UBOC type: | Back-pullout non-self-priming type (Center support) |
Process type

Single-suction, single-stage centrifugal pump with option of foot support or center support which can be selected according to the processing specification, such as petrochemical and chemical processing.

Back-pullout structure

Back-pullout structure equipped with a spacer coupling for easy disassembly without removing suction/discharge pipes and a motor at time of inspection.

Wide range of specifications

Gland packing and mechanical seals are available for shaft seal, and the flushing system most suitable for each processing can be selected.

Large selection of materials

A wide variety of materials are available, including FC, SCS and YOKOTA's corrosion and YOKOTA's corrosion and wear resistant special stainless steel casting (YST), to meet the needs of various kinds of liquid.

Outstanding self-priming performance (UB, UBC types)

The internationally patented self-priming (water-air separating) mechanism is equipped, which reaches a maximum vacuum of 60-90kPa (6-9m water column) and displays outstanding self-priming power.

A large amount of incoming air can be separated and discharged during pumping. Even if pumping becomes subject to suction or mixture of air due to fluctuations of suction conditions, it continues pumping, constantly discharging air, and restores normal pumping operation as soon as suction conditions return to normal. Even continuous suction of air-containing water (i.e., gas-liquid two-phase pumping) is possible.

Even if cavitation develops due to fluctuations of suction conditions such as water level, temperature, or vacuum level on the suction side, this pump can still continue its pumping operation. Therefore, this pump does not require allowance for NPSH, and enables stable pumping operation even under fluctuating suction conditions. It naturally shows outstanding performance for extraction from sealed (vacuum) tanks.

Due to its simple structure without any inlet check valve, it is robust and easy to maintain. Moreover, there is no need for installing a foot valve or an intermediate valve on the intake side under ordinary operating conditions.
Operation is also easy with no need for priming.

Because of superior intake power, intake pipes can be installed across embankments. Long intake piping is also possible.
Principle of self-priming (PAT.)

UB, UBC types
The pump casing consists of a smaller passage and a larger passage forming a semi-double volute and a cavity holder in the discharge nozzle.
| | |
| --- | --- |
| 1. | Flow of circulation |
| | During self-priming, the water discharged from passage A in the semi-double volute returns to the impeller through passage B-C, and is discharged again into passage A. |
| 2. | Removal of bubbles |
| | This recirculation flow mixes the water and the air in the center with intense vortex D within the impeller and discharges it into passage A. |
| 3. | Water-air separation and exhaust |
| | The water-air mixture is led from passage A to discharge nozzle B in a cyclonic state and automatically separated by centrifugal force, and then the water is recirculated through passage B-C. The separated air is then held by cavity holder E, and compressed and discharged. |



Applications
The YOKOTA Process Pump is a convenient pump suitable for a wide range of applications. Moreover, self-priming UB type and UBC type pumps can be used even under extreme conditions, for example, as chemical pumps for liquids containing air, pumps for mixing air bubbles in an aeration system (i.e., gas-liquid two-phase flow pumps), condensate pumps, drain pumps, and pumps for extraction from sealed tanks.
| | |
| --- | --- |
| Chemical industry: | Acids, Alkaline liquids, Solvents, Slurry liquids, other |
| Food industry: | Brewery, Sugar refining, other |
| Mining industry: | Seawater, Slurry liquids, other |
| Paper industry: | Pulp, Effluent, White water, Black water, other |
| Electric power: | Exhaust gas desulfurizer (Limestone slurry pumps, other), Seawater, Water treatment, other |
| Electronic industry: | Ultra-pure water manufacturing devices, Acidic waste water, Polishing waste water treatment, other |
| Aquarium, Fish farming: | Seawater suction, Circulation pumps, other |
| Others: | Hot springs, Hot oil, other |
Example application and installation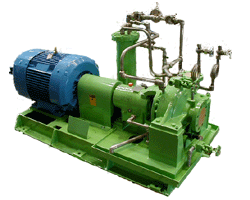 High-temperature processing pump for chemical plant
UBC type



UBA type and UL type are also available.
The UBA type is a back-pullout type process pump for primary system in nuclear power plants.
The UL type is a compact back-pullout type lubrication oil transfer pump with bearings that are installed inside the pump casing and are lubricated by the same pumping liquid (i.e. lubrication oil).
For details and related dimensional outline drawings of the UBA type and the UL type, please contact us.