Patented in Japan, U.S.A., other

| | |
| --- | --- |
| Bore | 80-600mm |
| Rated pressure | 1MPa |
Definitive model of disk-float-type valve with compact float and tank
Multi-functional with liquid level regulation, constant flow regulation (UFSF-C type), and automatic shutoff of the flow when the liquid level reaches the upper limit.
| | |
| --- | --- |
| For general use: | UFSF-S type (Standard type) |
| For constant flow regulation under any condition: | UFSF-C type (Full range constant flow regulation type) |
Compact float and compact tank

The unique balancing mechanism enables secure liquid level control using a compact float regardless of the inlet pressure, and allows the float tank to be a significantly compact size.
Also, due to this balancing mechanism, the valve operation is very smooth, causing no water hammer.

Complete water shutoff possible

Due to the balancing mechanism, an automatic self-closing force develops near the closing of the valve, which not only allows for use of a compact sized float, but also provides complete water shutoff performance.

Durability and maintenance-free

Due to its simple construction, the valve is clog-resistant, durable and practically maintenance-free.

Full range constant flow regulation (UFSF-C type)

Constant flow regulation is performed over the entire range even when the inlet pressure fluctuates. Excessive replenishment of water is therefore prevented even when the inlet pressure is high, enabling balancing of water supply among water distribution works, farm ponds, and other. Wasteful use of water resources can be prevented by setting the minimum necessary flow rate.
The set flow rate can be changed when necessary with the maximum flow rate adjustment screw, enabling the water supply quantity to be changed according to season.

Demonstrated performance

Excellent performance as verified by the National Institute for Rural Engineering.
UFSF-C type (Full range constant flow regulation type)


Constant flow rate characteristics at each set flow rate S (float valve opening %)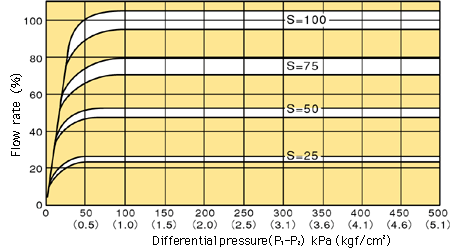 Example of pipeline system
Example applications
Sumoto Land Improvement Office in Hyogo Pref.

UFSF-500

Takaoka Agricultural Land and Forestry Office in Toyama Pref.

UFSF-300

Seibu Agriculture and Forestry Office in Shizuoka Pref.

UFNF-100



Adopted in the 1997 New Technology Introduction Project by the Tohoku Agricultural Administration Bureau


As an alternative, depending on site conditions, Liquid Level Regulator Valve, employing ball taps, is also available.
For details, please refer to Pilot-Type Regulator Valves (Overview).