Pilot-Type Regulator Valves
(Overview)

Regulator valve series with new clog-resistant pilot mechanism
Proposal for an "autonomous water supply network"
A fully automatic water supply network can be built with reduced costs by incorporating YOKOTA's various pilot type and direct operation type automatic regulator valves.
These valves autonomously control flow rate, pressure, and water level, by using the force of water at each location, and provide automatic and well-ordered water distribution in the overall network without a central control system.
This concept of an "autonomous water supply network" has the following significant advantages:

Robust with less risk of total malfunction

Since electrical sensors, equipment and wiring are not necessary, there is no risk of the whole system being paralyzed by lightning damage or power failure. (See note below)

Malfunction can be minimized to a limited section

In a centrally controlled system using centralized data processing, a malfunction at a single point can create a generalized data processing problem, adversely affecting a wide area. In contrast, this network of autonomous valves will limit any malfunction to the point where it occurs and prevent it from adversely affecting other valves.

Low initial costs

There is no need of structures, equipment, wiring and software for central control.

Low maintenance costs

Each valve is simple and clog-resistant in construction.
Each valve can be replaced without adversely affecting operation of other valves because each valve operates autonomously.

 Note:

If specially requested, we can provide an optional electric control system for such purposes as changing the set flow rate by remote control according to the season. Please contact us for details.

For example, if this autonomous network is applied to piping in a plant, costly electrical control equipment can be simplified or even omitted.
The following illustration is an example of its application to agricultural irrigation, showing the most rational approach for well-ordered water distribution.



Example of application to agricultural irrigation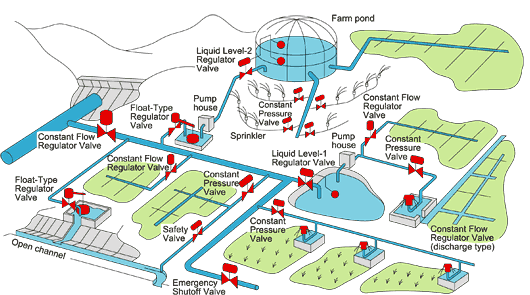 YOKOTA Pilot-Type Regulator Valves

A combination of main valves and various pilot valves allows for a wide variety of functions including regulation of flow rate, pressure, water level, and safe management of pipelines. Excellent automatic regulating functions are performed under any condition.



Complete water shutoff performance

The unique closure mechanism realizes complete water shutoff performance and leakage prevention when fully closed.

High clog-resistance

The pilot valve does not have any minute, fixed restriction passage like a needle valve, and is therefore clog-resistant.
And, even if clogging by foreign material occurs, its built-in self-cleaning mechanism causes the clogged valve part to open automatically to remove the foreign material. (UFSP, UFSP-C, UFSJ, UFSB-1W-C, USFB-2W-C, UFSS, UFSA, UFSD types)

Excellent durability and maintenance-free

Due to its simple construction, troublesome adjustments are unnecessary. Being excellent in durability and practically maintenance-free, using these valves reduces maintenance costs.

Over-discharge cutoff function

An orifice is installed at the valve's inlet side to cut over-discharge above the set flow rate, preventing wasteful use of water. (UFSP-C, UFSJ, UFSB-1W-C, UFSB-2W-C types)

Variable constant flow rate regulating function (Optional)

A butterfly valve or other flow rate adjustment valve may be installed in place of the orifice at the valve's inlet side, which allows for flow rate control over a wide range, allowing effective use of water resources and comprehensive flow rate control of the water distribution system. (UFSP-C, UFSJ, UFSB-1W-C, UFSB-2W-C types)

Demonstrated performance

Excellent performance as verified by the National Research Institute of Agricultural Engineering of Japan.
| | |
| --- | --- |
| Pilot-Type Regulator Valves lineup | Patented in Japan, U.S.A., other |
UFSP type

With over-discharge cutoff function
Constant Pressure Valve

UFSP-C type

Unique pilot mechanism provides excellent constant flow rate regulation
Constant Flow Rate Valve

UFSJ type

Maintains set liquid level by opening and closing of a ball tap
Liquid Level-1 Regulator Valve

UFSB-1W type

With over-discharge cutoff function
Liquid Level-1 Regulator Valve

UFSB-1W-C type

Maintains liquid level between upper and lower limits
Liquid Level-2 Regulator Valve

UFSB-2W type

With over-discharge cutoff function
Liquid Level-2 Regulator Valve

UFSB-2W-C type

Rapid prevention of excessive increase of inlet pressure
Safety Valve, Pressure Relief Valve

UFSS type, UFSA type

Excellent inlet pressure control and rapid shutoff performance
Pressure Sustaining Valve

UFSC type

Maintains set differential pressure between inlet and outlet pressures
Differential Pressure Regulator Valve

UFSD type

Rapid shutoff by detection of abnormal pipeline condition
Emergency Shutoff Valve

UFSE type

Direct-operation type constant flow regulator valves and liquid level regulator valves that operate without pilot valves are also available.
For details, please refer to
 Constant Flow Regulator Valve UF series
 Float-Type Regulator Valve UFSF type



>Back to Top